Disclosure: This post has affiliate links. I earn a commission at no extra cost to you. I only recommend products I personally believe in. More info on my Privacy Policy page.
Advanced Rank Tracking: 8 Essential Tools Compared for Ultimate Accuracy
One of my favourite parts of SEO is seeing the progress in the search results, whether for myself or the clients of my SEO agency, SEO CoPilot Ltd. Over the past 15 years, we have worked for hundreds of clients and helped them succeed online.
In today's changing world, where the success or failure of businesses heavily relies on your online presence, it's crucial to have a robust strategy, especially for tracking your website's rankings positions.
Check out these eight leading rank-tracking tools: Nightwatch, Ranktracker, Pro Rank Tracker, Moz, AccuRanker, SE Ranking, Rank Ranger, and Mangools (KWFinder).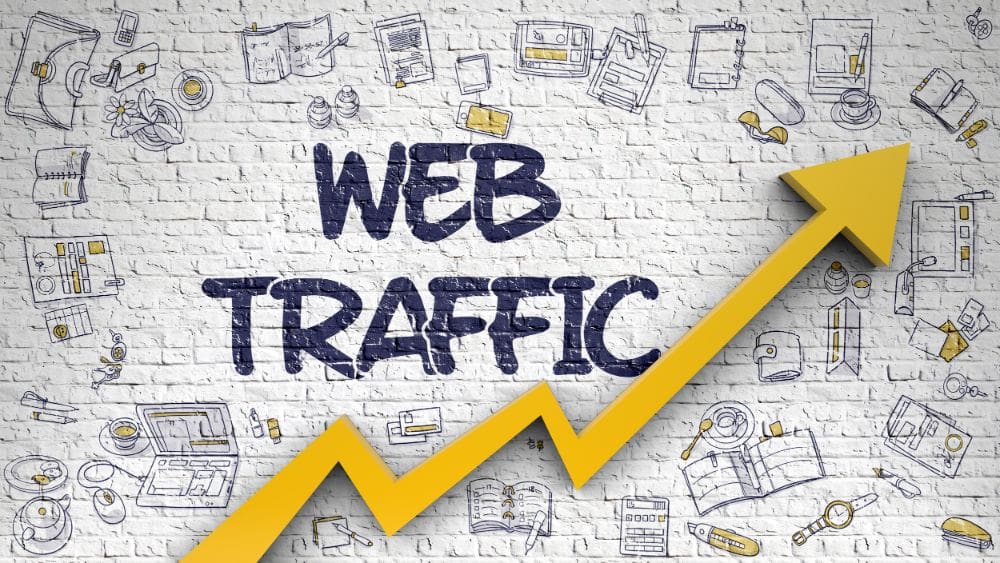 The importance of advanced Rank Tracking
Before the comparison, let's understand why advanced web ranking software is crucial for achieving SEO success.
Search engines like Google dominate the marketing world, and driving traffic to your website is paramount. And tracking any changes, of course, is an essential part of any successful SEO campaign.
To ensure that your website ranks high in search engine results pages, SERPs (Search Engine Results Pages) must monitor the ranking position of your targeted keywords. This is precisely where advanced rank-tracking tools prove invaluable!
These tools go above and beyond the basic rank-tracking capabilities of free tools. They offer data on your keyword rankings, search volume, SERP features, location, and competitor performance.
With rank-tracking tools, you can see website position, identify areas for improvement, optimise your tracked keywords and content, and stay ahead of the competition.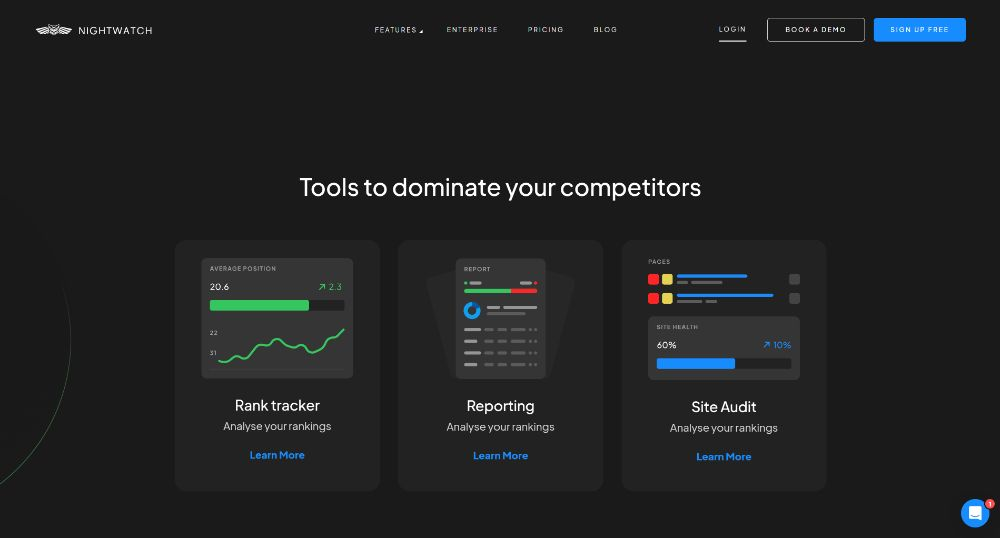 Let's introduce the eight best rank tracker tracking tools we will compare in this showdown.
We haven't used all 8 of the tools personally. Still, we have looked closely into each one with our industry knowledge of over 20 years and compared the features against our favourite one, Nightwatch.io (which we have stayed with for the last 3 years in my SEO agency business.)
1. Nightwatch.io
2. Ranktracker
3. Pro Rank Tracker
4. Moz
5. AccuRanker
6. SE Ranking
7. Rank Ranger
8. Mangools (KW Finder)
Each tool provides features and capabilities that provide insights into your website's performance.
So, which one will be your choice for rank tracking? Read on, and we will see if we can help you make the right choice for your venture. Discover and dive into pricing pros and cons, features and ease of use.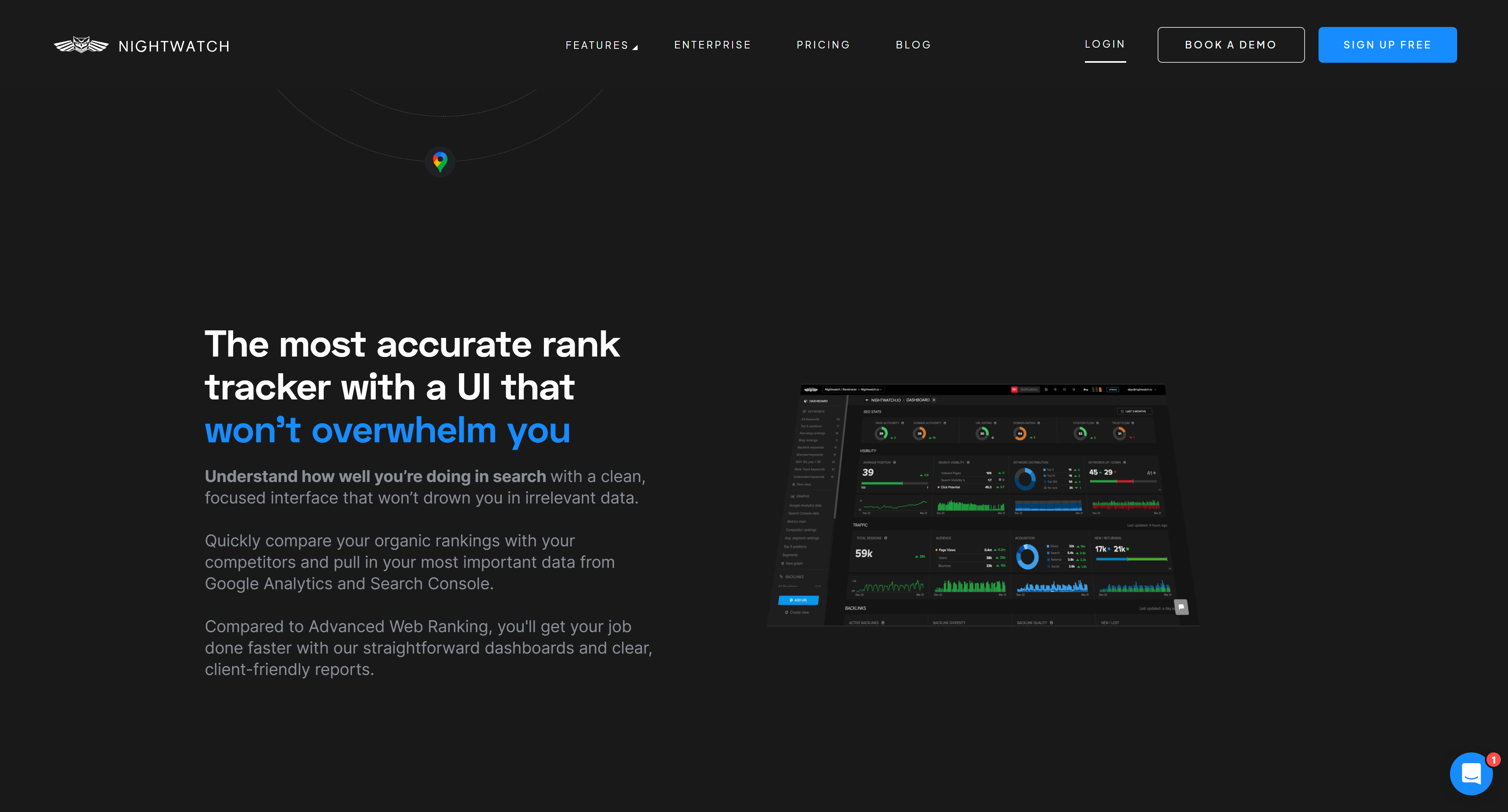 1. Nightwatch.io
Let's talk about our choice, the nightwatch.io rank-tracking tool; one of the best options and a real game changer whether you run an SEO agency like myself or are running your website from home.
Rank tracking nightwatch.io stands out as the clear winner for us.
Its powerful features, data, and user-friendly interface have made it a go-to tool because we like accurate data but an easy life.
Their statement makes nightwatch.io unique in its ability to track keyword rankings from any location on Earth!
Additionally, nightwatch.io it offers a keyword tracking tool that allows you to monitor keywords on an excellent user interface, making it clear what's happening at a glance.
It's not only about showing up in search results. Whether focusing on postcodes or cities, nightwatch has got you covered. The level of precision it offers in Google search results is unmatched in the industry.
However, Nightwatch offers more than tracking rankings. It provides a suite of SEO tools, including site audits, keyword discovery, and optimisation.
The site auditing feature helps you identify and resolve any SEO issues, ensuring your website is optimised for search engines.
Furthermore, the keyword discovery feature helps you find keywords and develop a strategy to boost your target keywords' visibility.
One exceptional feature of Nightwatch is its ability to generate attractive ranking reports you can share with clients. You can create reports tailored to your brand using their easy-to-use drag-and-drop interface.
This is particularly beneficial for agencies who want to impress their clients with visually appealing reports like we do.
Users have praised its accuracy, especially for local rank tracking and advanced web ranking data points.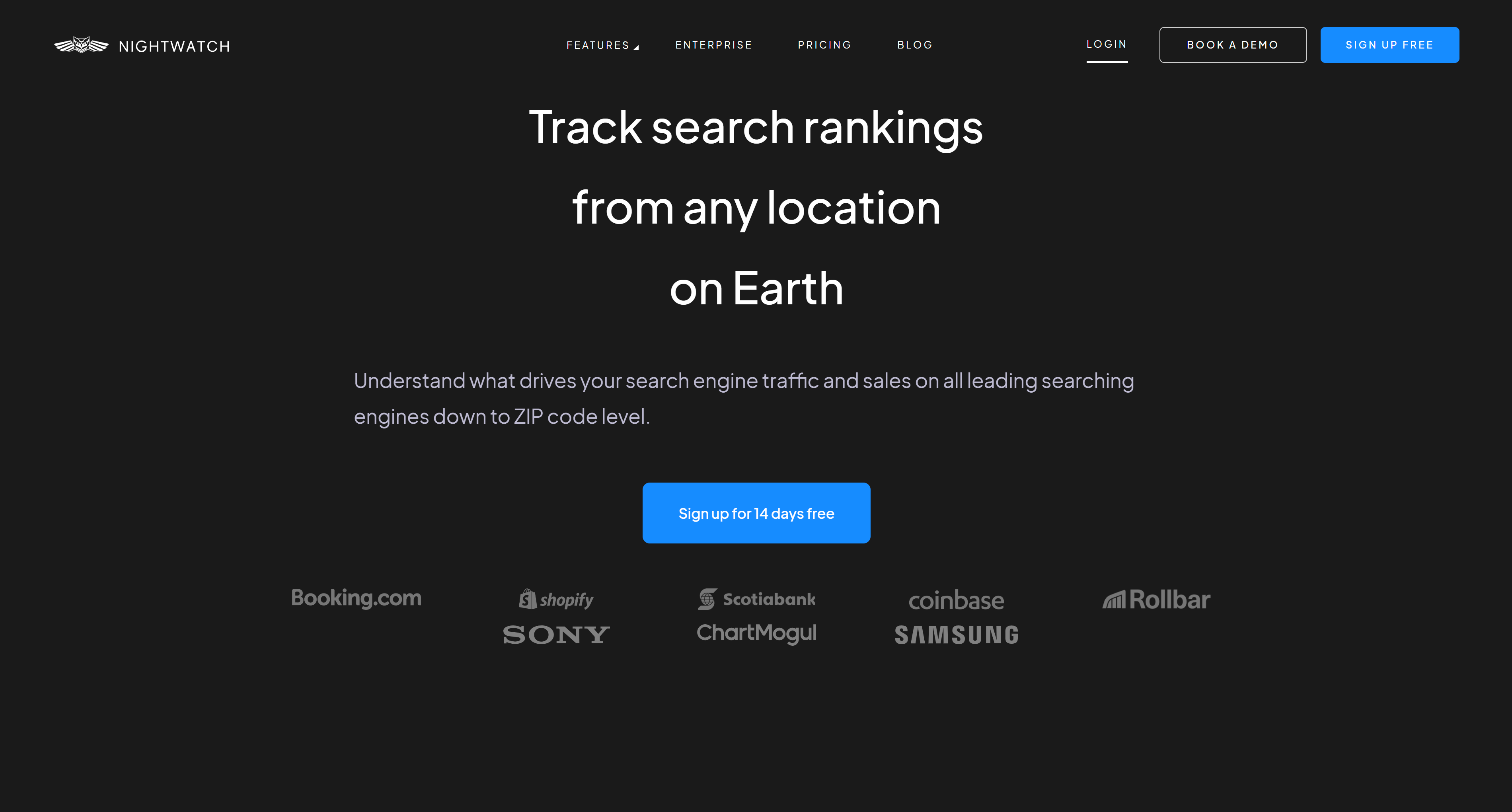 2. Ranktracker – A powerful and user-friendly option
Rank tracker is another contender as a quality ranking position tracking tool.
You can track your rankings for any location, giving you an understanding of where you rank on all the keyword search engine results pages (SERPs), including map results.
One of the standout features of Ranktracker is its site auditor, just like nightwatch.io. This handy tool helps you identify and fix issues like pages, missing tags and broken links.
By using this feature, you can ensure that your website remains healthy and optimised for crawling and indexing by search engines.
You can tailor these reports based on each client's level of understanding, ensuring that you provide the amount of information to stakeholders.
However, once you become familiar with it, Ranktracker provides ranking data and valuable insights for your SEO campaigns.
Noteworthy!
While Ranktracker offers a range of features, some users have mentioned that the interface may appear overwhelming initially for beginners.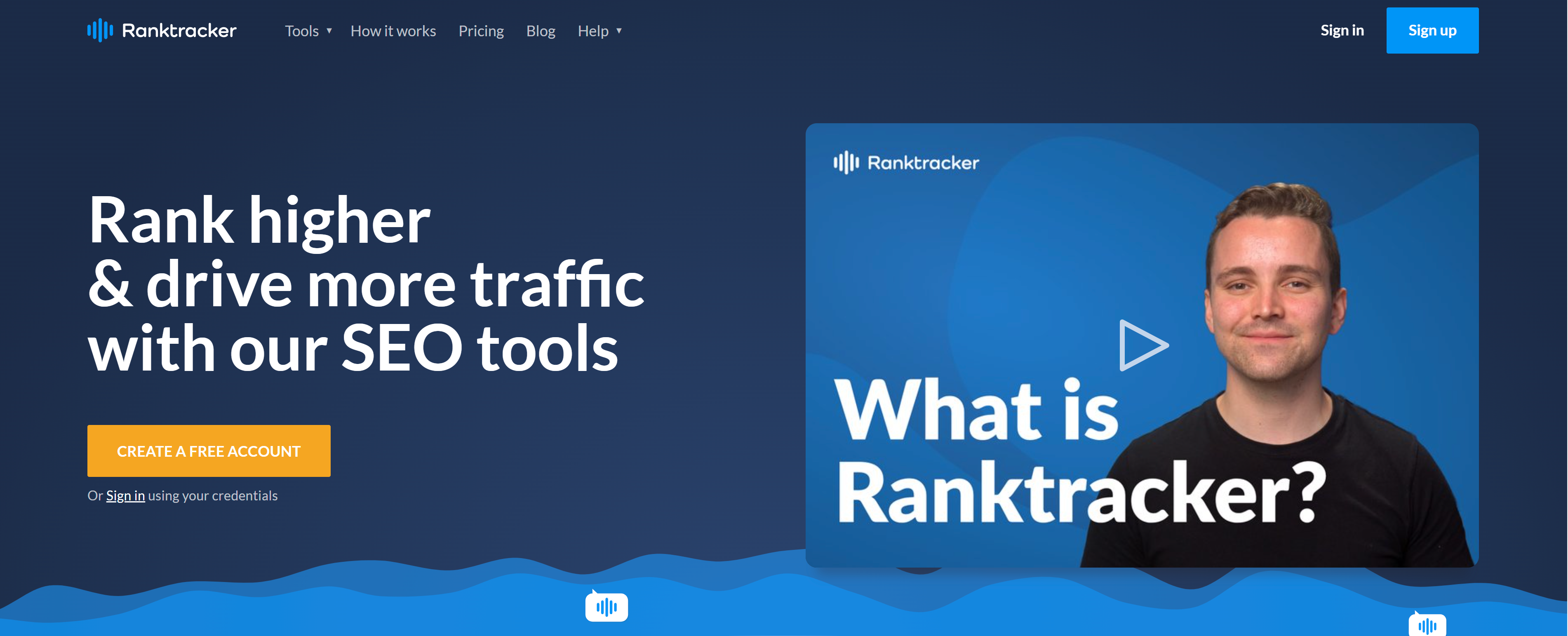 3. Pro Rank Tracker: Harnessing the Power of Data
Pro Rank Tracker is a tool for tracking keyword rankings for professionals more than single site owners.
With Pro Rank Tracker, you can effortlessly track thousands to millions of keywords across any location, gaining insights into your website's performance.
One notable feature of Pro Rank Tracker is its ability to provide tracking updates. This enables you to stay informed about any fluctuations in your rankings and adjust your SEO strategies accordingly.
Additionally, Pro Rank Tracker offers localised and mobile search engine results page (SERP) tracking, allowing you to tailor your optimisation efforts for locations and mobile users.
Another advantage offered by Pro Rank Tracker is its competitive intelligence functionality. This allows you to analyse your competitors' rankings and identify opportunities to surpass them.
Noteworthy!
However, it's worth noting that some users have found the user interface of Pro Rank Tracker slightly overwhelming again for beginners.
Nevertheless, once you become familiar with the tool, it provides ranking data and valuable insights that contribute significantly to the success of your SEO endeavours.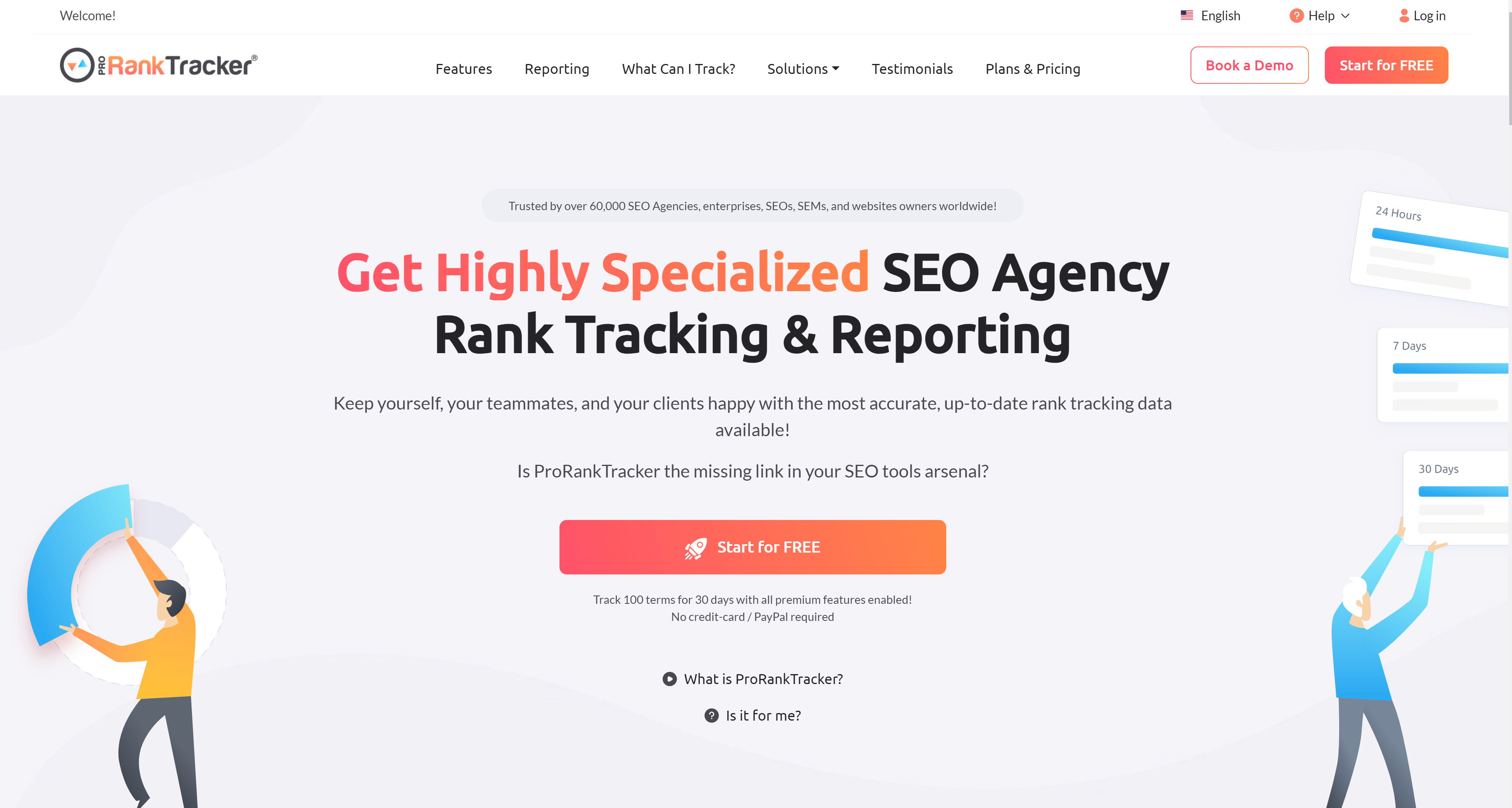 4. Moz – The Ultimate SEO Solution?
Moz is a well-known and well-respected name (used to be called Moz SEO) in the world of SEO, providing a range of powerful SEO tools.
With Moz Pro, you can monitor the performance of hundreds or even thousands of keywords that drive traffic to your website across more than 170 search engines.
One standout feature offered by Moz is its site audit functionality. By utilising this feature, you can address any SEO issues that may be present on your website.
Moz provides recommendations and fixes to help optimise your site for search engines, resulting in improved keyword rankings and overall website performance.
Another valuable tool provided by Moz is its backlink analysis feature.
While it's true that some users find Moz's suite of SEO tools a bit tricky, particularly for beginners, it's important to note that their pricing plans may be slightly higher compared to other similar tools available on the market.
However, Moz should be on your radar if you seek an all-in-one SEO solution with features.
https://moz.com/products/pro/rank-tracking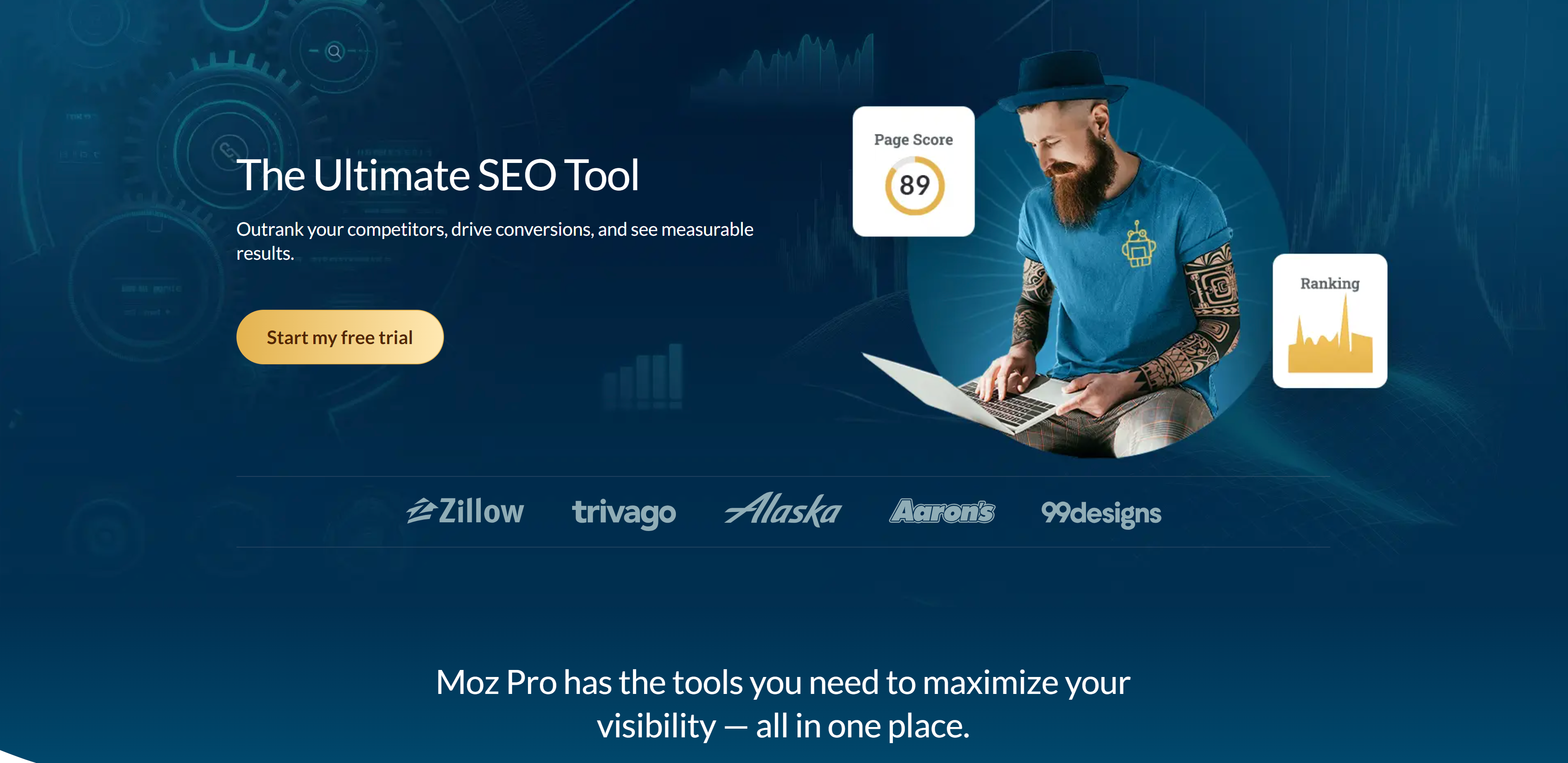 5. AccuRanker;
AccuRanker stands out amongst SEO professionals and agencies for its rank-tracking capabilities and transparent pricing structure (not every tool can easily see the total cost immediately). It is known for providing precise keyword rankings across 188 countries.
One of the advantages of AccuRanker is its accessible data. The AccuRanker REST API allows developers and technical experts to access all data and metrics without limitations, enabling them to create customised applications or reports tailored to their requirements.
AccuRanker also offers segmentation and data filtering options, allowing users to analyse and extract insights from datasets. This feature proves helpful when working with amounts of information.
Noteworthy!
Although some users have mentioned that the user interface can be clunky or less intuitive compared to tools, Accu Ranker's accurate rank-tracking data and transparent pricing make it worthwhile.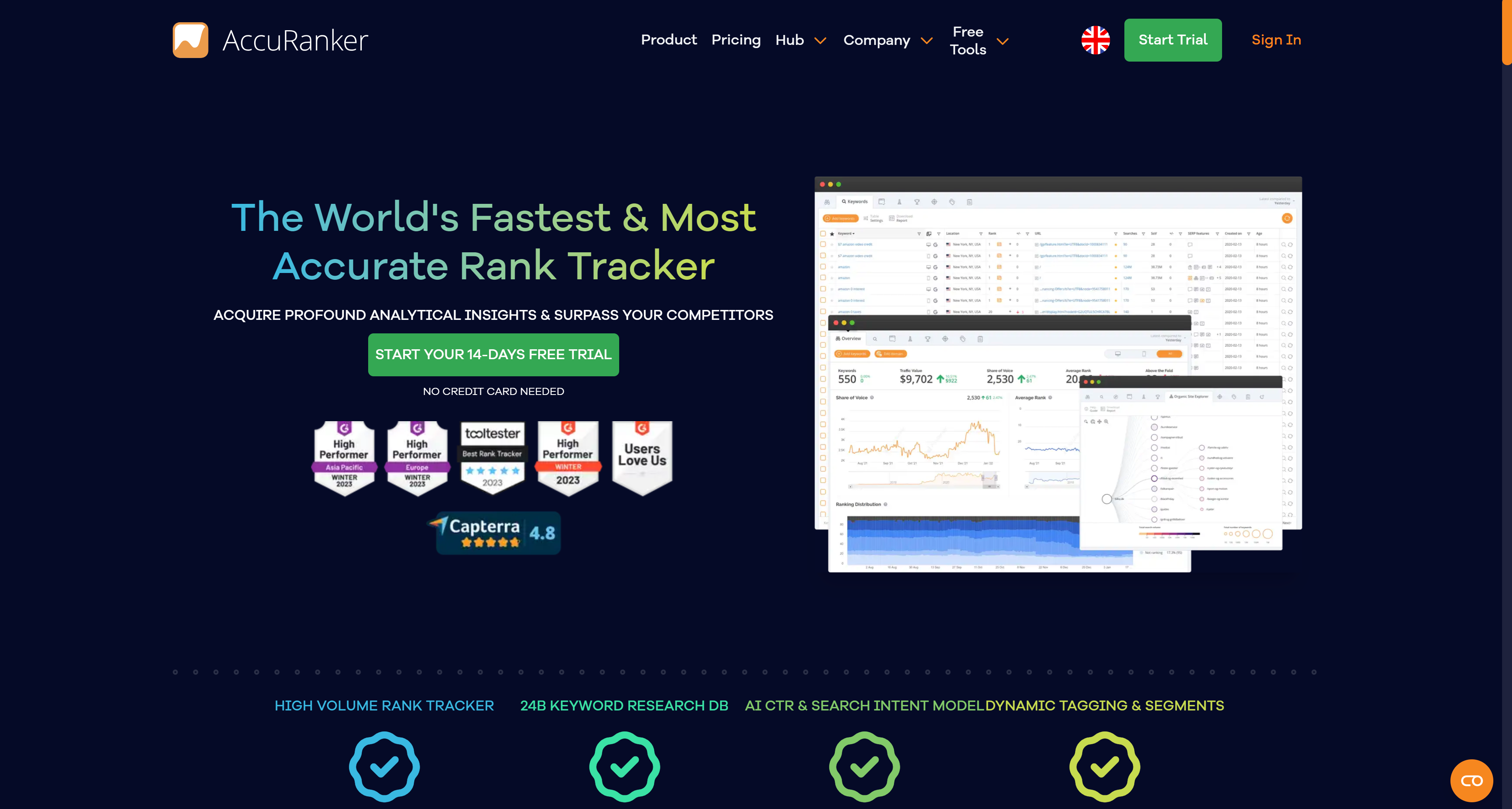 6. SE Ranking
Moving SE to Ranking, it is an SEO platform that offers a set of tools designed to streamline agency workflows. With SE Ranking, you can effectively grow your email list. You can quickly generate high-quality leads and build your business through their lead generation features.
You can also boost trust. Enhance your reputation by using labelling to provide your clients with a seamless experience.
SE Rankings white label reporting feature enables you to create customised automated ranking reports demonstrating the value of your SEO services to your clients.
Moreover, you can have client seats to communicate your progress and openly adjust access settings as needed.
SE Ranking also offers integration with data sources, allowing you to combine SEO insights with information for maximum impact.
This functionality empowers you to make data-driven decisions and optimise your SEO strategies effectively.
While SE Ranking provides SEO tools, some users have mentioned that the user interface can be a bit cumbersome, and beginners may find it challenging initially.
However, if you're seeking a tool that streamlines agency workflows and provides reporting capabilities, SE Ranking is certainly worth considering.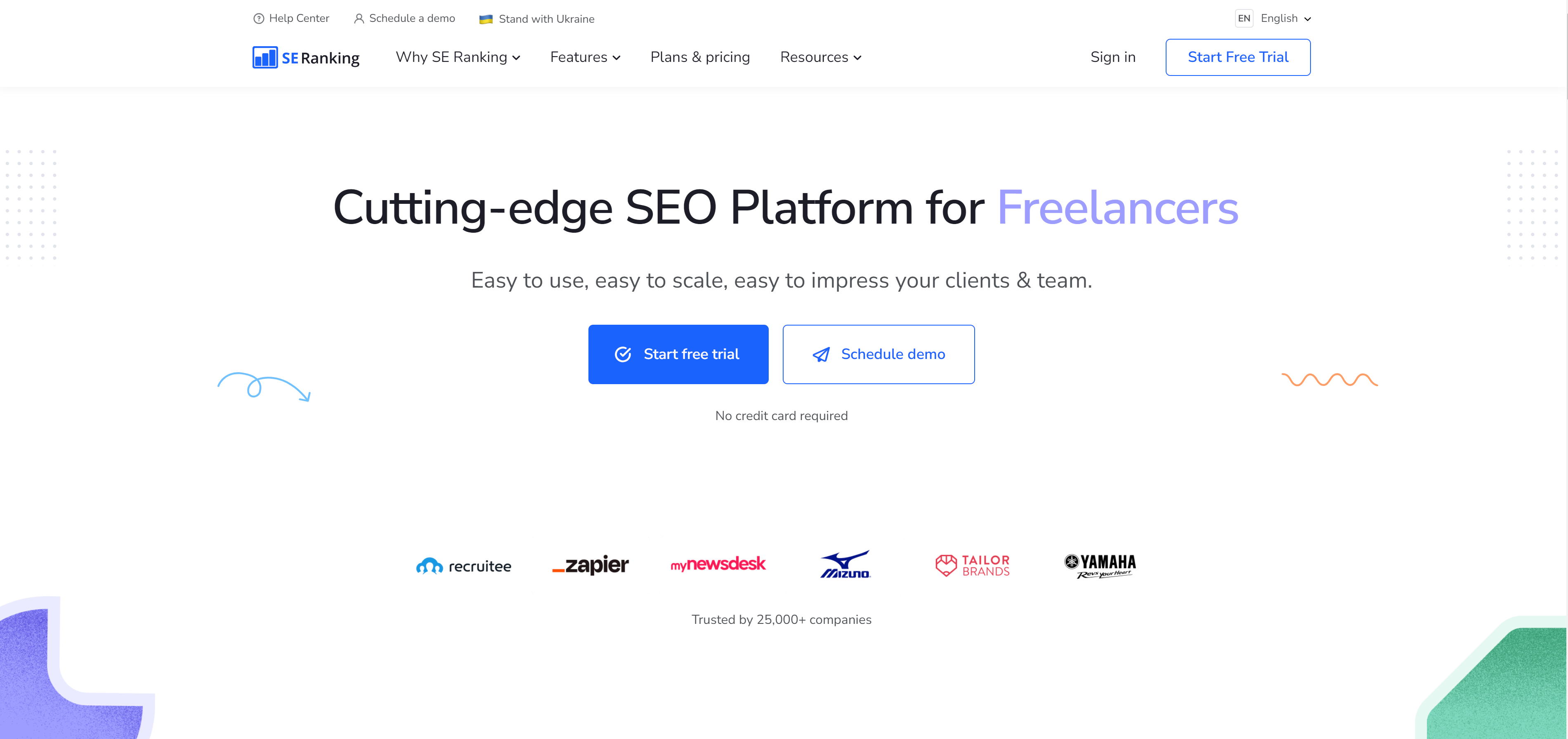 7. Rank Ranger: Unleashing the Power of SERP Analysis
Rank Ranger is a rank-tracking tool offering various features to optimise your SEO strategies. With Rank Ranger, you can monitor keyword rankings, analyse SERP features, and gain insights into your website's performance.
One noteworthy feature of Rank Ranger is its SERP analysis (analysing the Search Engine Results Pages).
This feature allows you to get an overview of all the elements on the search engine results page (SERP) with a set of keywords.
This comprehensive view helps you identify areas where improvements can be made and optimise your content accordingly.
Rank Ranger also provides tagging functionality, which enables you to create filters for categorising your keyword data in real time.
This feature simplifies organising and analysing your keyword data, making extracting insights easier.
While Rank Ranger offers rank-tracking capabilities, some users have mentioned that the user interface can be overwhelming and less intuitive than tools.
However, Rank Ranger is worth considering if you seek in-depth SERP analysis and dynamic tagging features.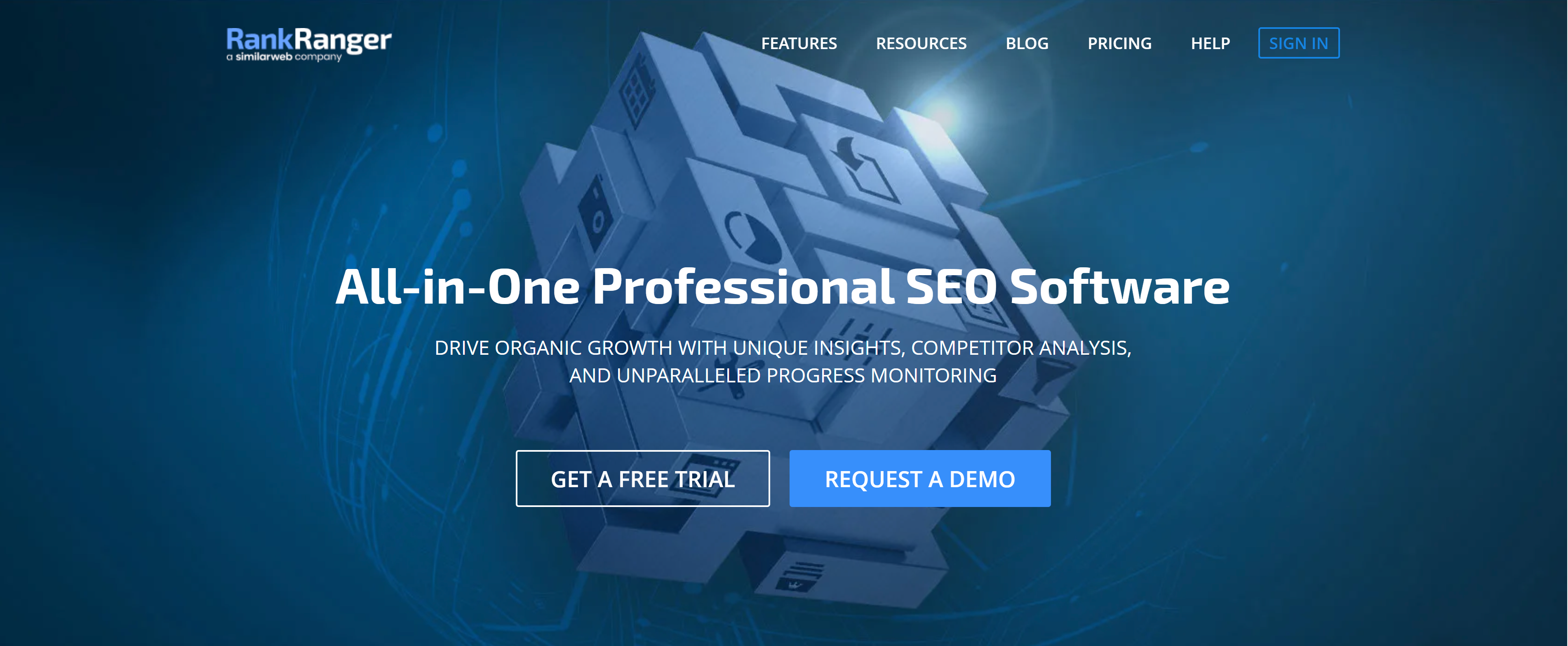 8. Mangools (KW Finder) Extensive Keyword Research
Mangools, their KW Finder tool, is a keyword research solution with rank-tracking capabilities. With KW Finder, you can discover thousands of keywords to target keyword finders, analyse their difficulty scores and conduct competitive research.
One notable aspect of Mangools is its user interface. With its design, even beginners can easily navigate the tool. Gain valuable insights.
Moreover, Mangools provides a range of metrics that encompass keyword difficulty, spam score, page authority, and domain authority. These metrics offer data to optimise your SEO strategies effectively.
Although Mangools offers capabilities for a keyword research tool, its rank-tracking features are comparatively basic when compared to the tools mentioned in this list.
However, if your primary focus is keyword research, and you prefer a user interface, it would be worth considering Mangools.
The final verdict
Nightwatch.io Emerges as the choice for tracking after evaluating and comparing the eight advanced tracking tools.
With its features, data accuracy, and user-friendly interface, nightwatch.io equips SEO professionals and agencies with all the tools necessary to thrive in the digital landscape.
While each tool presents features and capabilities, nightwatch.io sets itself apart from the competition with its local rank-tracking functionality, comprehensive suite of SEO tools, and ability to generate white-labeled reports. The positive user reviews also solidify its position as the leading option, especially for local rank tracking.
If you're ready to improve your SEO performance, consider giving nightwatch.io a try and witnessing it first-hand.
In the fast-paced realm of SEO, it's crucial to stay ahead of your competitors to thrive, and nightwatch.io is there to assist you in accomplishing exactly that.
Don't settle for just a rank tracker for tracking.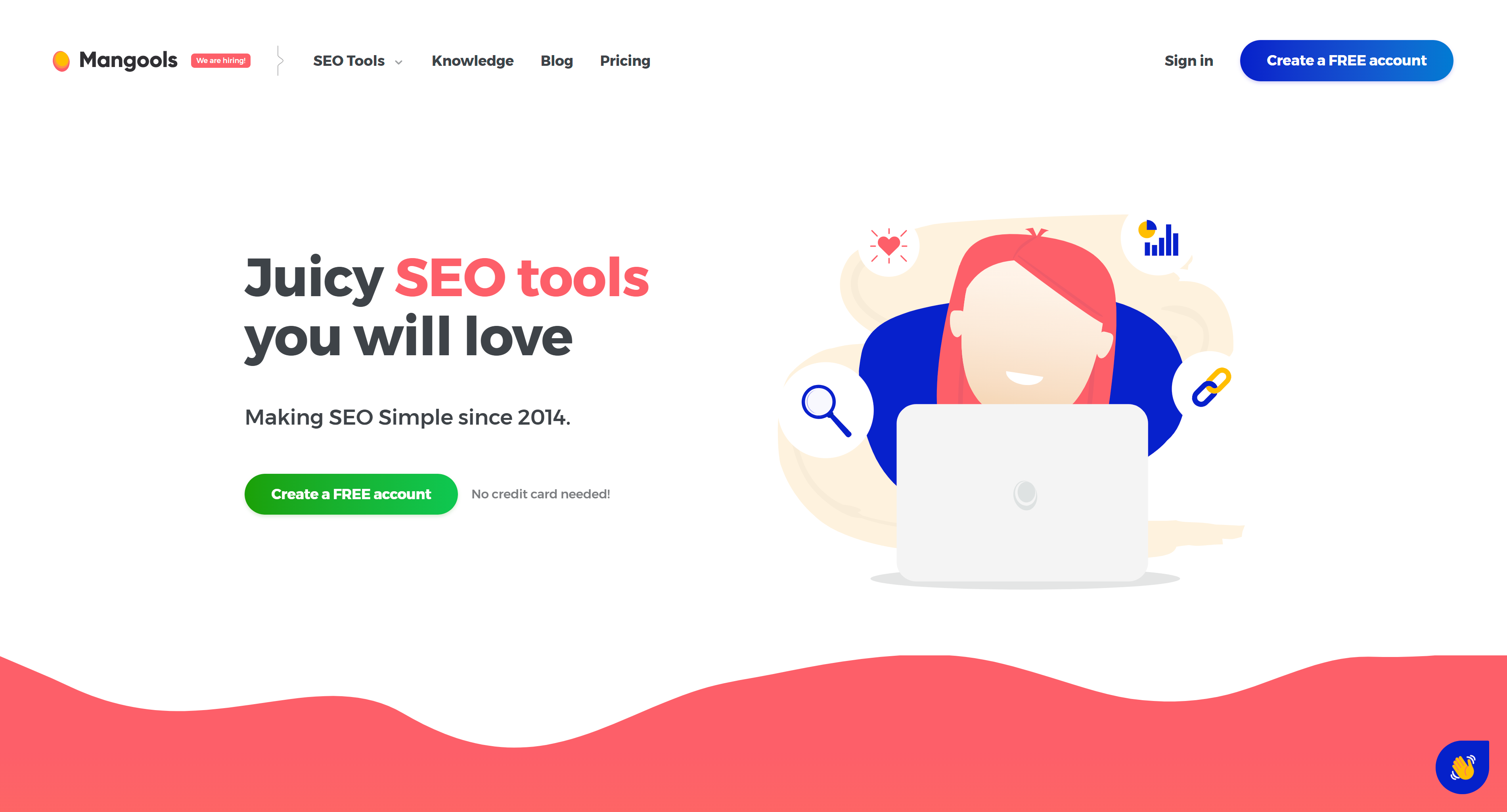 Case Study
To give you some examples of how we use The Night Watch rank tracking software, we recently wrote this post about internal linking and the benefits of it for your SEO strategy.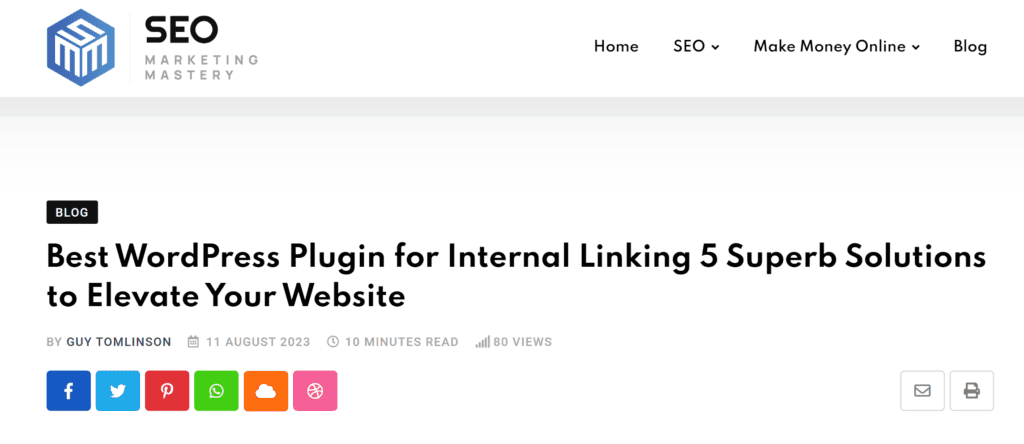 It's only been indexed, but we will add relevant keywords we want to rank for and see where it's picked up. If it ranks well, we know there won't be much more work to land on page one and bring in some excellent traffic.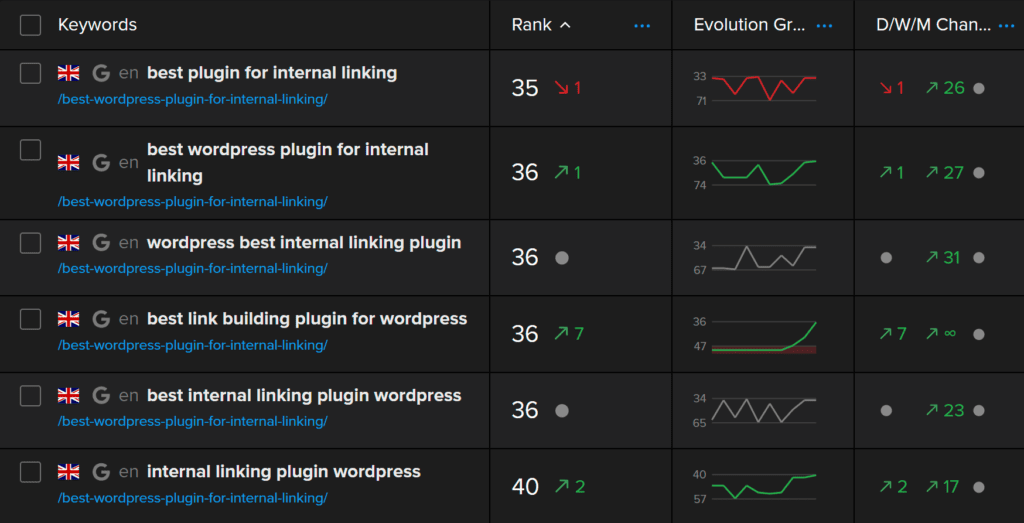 It shows the key phrases we are ranking for, the page URL, an evolution to show history as time passes, and DWM (Day/Week/Month) movements. As a brand-new post and only recently indexed, I am pretty happy with these positions. So, this post should do pretty well with extra work on the page and more internal linking from my relevant posts with a few backlinks.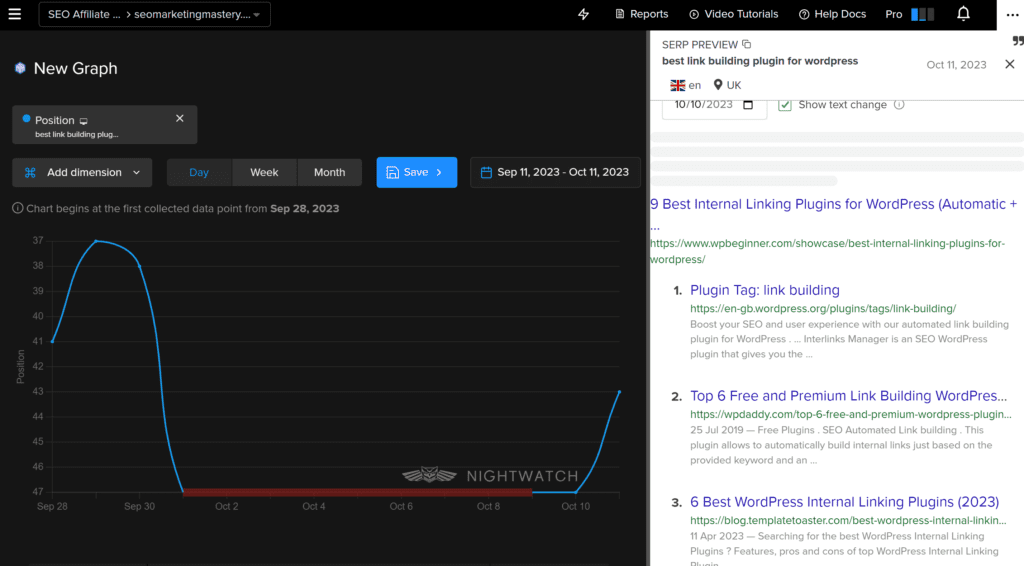 Newly indexed pages often bounce around while Google decides where the post should be. Don't worry. When you see dropouts like this, you will often see the keyword come back a few days or weeks later and end up higher. We know this post will need more work, but that's a good start, and we will keep monitoring its progress Night Watch.
Advanced Rank Tracking FAQs
1. What is Advanced Rank Tracking?
Advanced Rank Tracking is an approach for monitoring your website's positions on search engines for specific target keywords.
Using tools provides insights into ranking data, enabling SEOs to develop effective strategies to improve rankings' visibility.
2. How does an advanced rank tracker tool differ from an SEO tool?
While many SEO tools offer a range of functionalities, such as backlink analysis and on-page SEO audits, an advanced rank tracker tool primarily focusses on tracking the positions of keywords in search rankings.
It provides data about where a keyword stands on search engines and offers insights into fluctuations over time.
3. Why is mobile tracking crucial?
Given the increasing usage of mobile devices, search engine rankings can vary between desktop and mobile platforms.
Mobile rank tracking ensures that your website maintains a presence regardless of the mobile device used, providing an encompassing understanding of your site's performance.
4. How do SERP features impact tracking?
SERP features like featured snippets, local packs, or image carousels can influence how traditional organic search results are displayed.
By monitoring these features, you gain insights into opportunities to enhance visibility and improve through rates.
5.
Why should I take into consideration tracking rankings?
A presence in search results is crucial for businesses operating within specific regions. Using rank tracking, you can gather data about how your website performs in these localised searches.
This information lets you focus your SEO efforts effectively and target the audience.
6. Can a tool for tracking rankings display data from multiple search engines?
Absolutely! Advanced tracking tools can aggregate data from engines, providing you with a perspective on how your site is performing.
While Google continues to dominate the search engine market, keeping an eye on platforms like Bing or DuckDuckGo as part of an SEO strategy is essential.
7. What sets apart rank tracking software from a rank tracker?
Both tools primarily focus on monitoring keyword rankings. Rank-tracking software often offers features that enhance its functionality.
These may include competitor analysis, the ability to track multiple keywords simultaneously and generating ranking reports. Rank-tracking software provides a solution for analysing and optimising the performance of your website.
8. How does the search volume of keywords affect my tracked results?
The search volume indicates how many keywords or specific terms are searched within a period. Keywords with search volumes can potentially drive traffic to your website but tend to be more competitive. You can adapt your SEO strategy for impact and visibility by monitoring these keywords.
9. What role does keyword research play in rank tracking?
Keyword research serves as the foundation of SEO strategies. It involves identifying which terms your target audience uses when searching online.
You can optimise your website's visibility and search relevance by conducting keyword research and incorporating those findings into your rank-tracking process.
Here are some common queries related to rank tracking and their answers;
10. How can I connect tracking with tools like Google Analytics?
Advanced rank-tracking software allows integration with popular tools such as Google Analytics, Google Data Studio, and Google Search Console.
These integrations offer a view of your website's performance by providing data points.
11. Can tracking assist in competitor analysis?
Absolutely! By monitoring the ranking data of your competitor's targeted keywords, you can gain insights into their SEO strategies. Identify areas where your strategy can be improved, giving you a competitive advantage.
12. How frequently should I check my website's ranking performance?
For keywords, it is advisable to check rankings daily. However, for an overview, conducting checks should suffice. An advanced keyword tracking tool often allows you to obtain rankings on demand with just a few clicks.
13. What is the importance of analysis in tracking?
Backlinks play a role in search engine rankings. A good rank-tracking tool usually includes a backlink checker feature that enables you to identify which websites are linking to yours and evaluate the quality of these links.
14. Are there any tools specifically designed for tracking the ranking of landing pages?
Yes, some tools can monitor the effectiveness of landing pages, providing valuable information on which pages perform well for specific keywords and which ones require improvements.
15. Is there a top-notch tool for tracking rankings that stands out in the market?
There are rank-tracking tools currently available. The selection of the best one typically relies on requirements, such as the number of keywords you wish to monitor your budget considerations or integration preferences.
Final Thoughts
Finally, although we have given you our experience and advice, please take your time to find the right fit for you and your circumstances and budget. Most of these tools offer a free trial to try them out to see where your site ranks and track other target keywords.
As they all offer different things, try out the tools, like a website audit tool, backlink checker, SEO audit, mobile rank tracking, competitor analysis, and any other SEO tool they offer.
Take your time, and accuracy is vital.
Good luck with your choice and your journey!